The learning spaces at Launch High school will be varied to meet the needs of students and teachers. Launch's physical location will be inside the Royal Hunte Professional Offices plaza, the building to the east of the Iron County School District offices. Launch will have areas for students to work both individually and in small groups, in addition to a wellness room and spaces for tutoring and testing. Students and teachers will strategically use all of these spaces to meet the needs of all students as they personalize the learning experience.
Interested in Enrolling? Have questions?→ CLICK HERE
Launch Pad (Makerspace)
The Launch Space is a largely open makerspace which allows students to collaborate, create and bring to life their solutions to real-world problems. They will prototype with available technologies such as 3D printers, laser engravers, robotics, hand tools, and other creative software and hardware. The flexible furniture is meant to meet the needs of various projects and learning activities. This space will also include a small stage for presentations and places to showcase student work. Students will work inside the launch space for the majority of their time during the school day. Here they will utilize the flexibility of the space to work on independent learning activities, collaborative projects, and receive targeted instruction.
Tutoring Centers
Tutoring centers are spaces where targeted instruction will take place to give timely instruction as needed to students. This type of personalized learning is made possible by learning data gathered with digital learning tools and utilized by teachers to give students such targeted instruction. This allows students to own their learning and not be constricted or rushed forward by the pace of the class. It also allows them to set personal goals for growth with the teacher, who will coach and mentor them.
Testing Centers
Testing centers will be open for students to demonstrate proficiency and competency in their coursework when they are ready. The open doors of the testing centers, allowing students to test whenever they are ready, exemplifies competency-based education where students advance upon mastery, not seat time.
Collaboration Board Room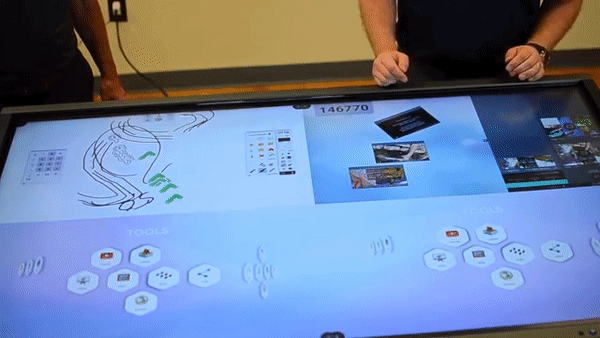 The collaboration board room and other areas of the school will utilize collaborative touch tables, to allow students to interact, visualize, and connect around the table to initiate, iterate, and improve upon ideas.
Having spaces like this allows students to practice the essential eight skills of collaboration, creativity, communication, and more. These skills will be required components and integral to the projects that will comprise approximately 50% of students' work.
Wellness Center
As students work to critically think about their coursework, collaborate and create together, they must also prepare for future success by being able to regulate their emotions, be resilient, maintain a positive attitude and growth mindset. There will be a space available for students when they need some quiet time to reflect, destress, and refocus. This will not only help them to increase their emotional wellbeing but also make them more productive in their academic work.
Learning Technology
Students will utilize top-of-the-line learning and assessment management tools such as Canvas and Mastery Connect to give them immediate feedback and stretch them to critically think about their coursework. These tools allow teachers to personalize the path and pace of instruction. Learning technologies used at Launch will give access to learning beyond the walls of the school, while at the same time encouraging students to apply their learning in authentic ways that will have impacts beyond the walls of the school. Students will use collaborative tools that will allow them to work together effectively and connect with industry and post-secondary mentors as they launch their projects.