Launch High School will offer students unique learning experiences with the chance to develop career-building skills within an experiential, hands-on environment focused on entrepreneurship and personalized competency-­based education.
Interested in Enrolling? Have questions?→ CLICK HERE
One day at Launch, One day at Boundary High School
Students will take their core English, math, science and social studies classes at Launch High School and attend on only one of either an A or B day. On the opposite day, students will attend their boundary high school (CHS, CVHS, PHS, SEA) and there they will take their elective classes. This will allow students to still participate in athletics and other extra-curricular activities at their boundary high school.
One on One Advisory with a Teacher Twice a Week.
Students will meet with their teachers for 15 mins, one on one, at least twice a week to ensure they are on pace and making progress as well as getting adequate mentorship on their projects. There will be additional time for tutoring and mentoring beyond this as needed, but this time will be structured and reoccurring to ensure that the personal learning needs and goals of each student are being met.
50%+ Time in Hands-On Projects using Technology
Students will work on projects incorporating the design thinking process for at least 50% of their time. This will have them begin with a design challenge that builds off their coursework such as,
"Design a product, service, or campaign to resolve the feud represented in Romeo and Juliet by the Capulets and the Montagues. Make your solution applicable to either modern gang violence, political parties or other rival factions."
These types of design challenges bring about meaningful projects that can be personalized to the interests and insight of each student and can provide solutions for authentic problems we face today. They will not only come up with creative solutions, but actually bring them to life by prototyping their products, apps, and campaigns using the technology available such as 3D printers, Laser Engravers, App and Web creation software, robotics, connected smart devices and more.
Design Thinking Process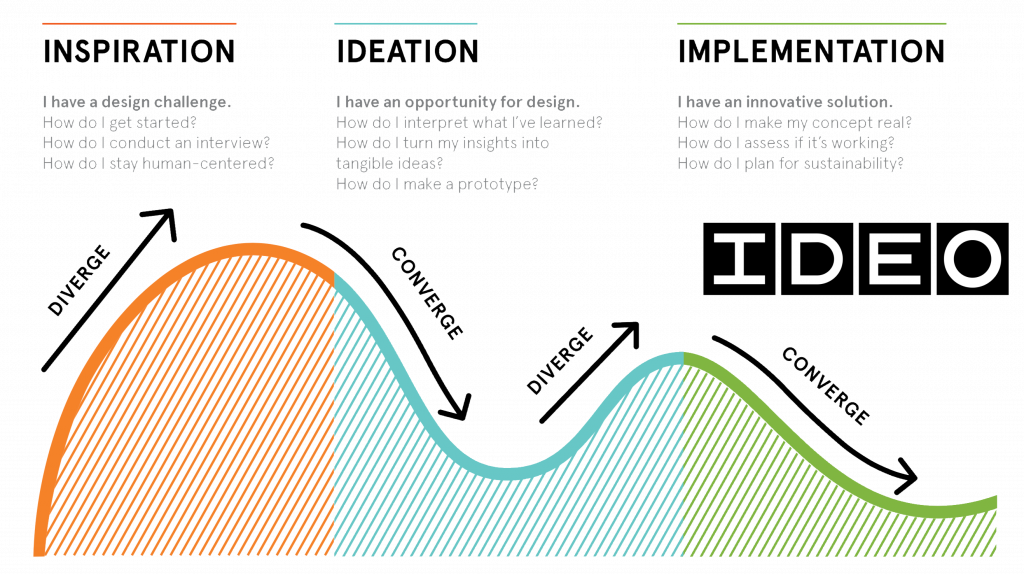 The design thinking process will be the backbone of all projects at Launch High School. Design thinking is aligned with the spirit and practice of entrepreneurship and will be the means by which students will become creative thinkers, deriving new solutions to real-world problems by launching business ideas, products, apps, and campaigns. Innovation is the driving power of entrepreneurs, who want to change the world as we know it. As a result of this importance of innovation in entrepreneurship, a big place for design thinking is reserved in the lives of all startup enthusiasts, innovators, and visionaries. Learn more about design thinking and the human-centered design process at ideo.org/tools
What is Personalized Competency-Based Education
Offering personalized learning, meaning Instruction is tailored to students, is the next logical step in efforts to ensure all students are college and career ready in our district. This will build upon all we know and are already doing to implement good teaching practices while providing the increased flexibility, support, and technology educators need to put students at the center of education. We recognize that each student is unique and special and that one-size-fits-all approaches are less than ideal. Students will be more engaged at schools that personalize learning, like Launch High School, by having the learning path and pace customized to their strengths and interests. Students can advance upon mastery of the skills and standards of the class, instead of needing to meet seat time requirements, making the school competency-based.
What are the Essential Skills and How will they be Integrated.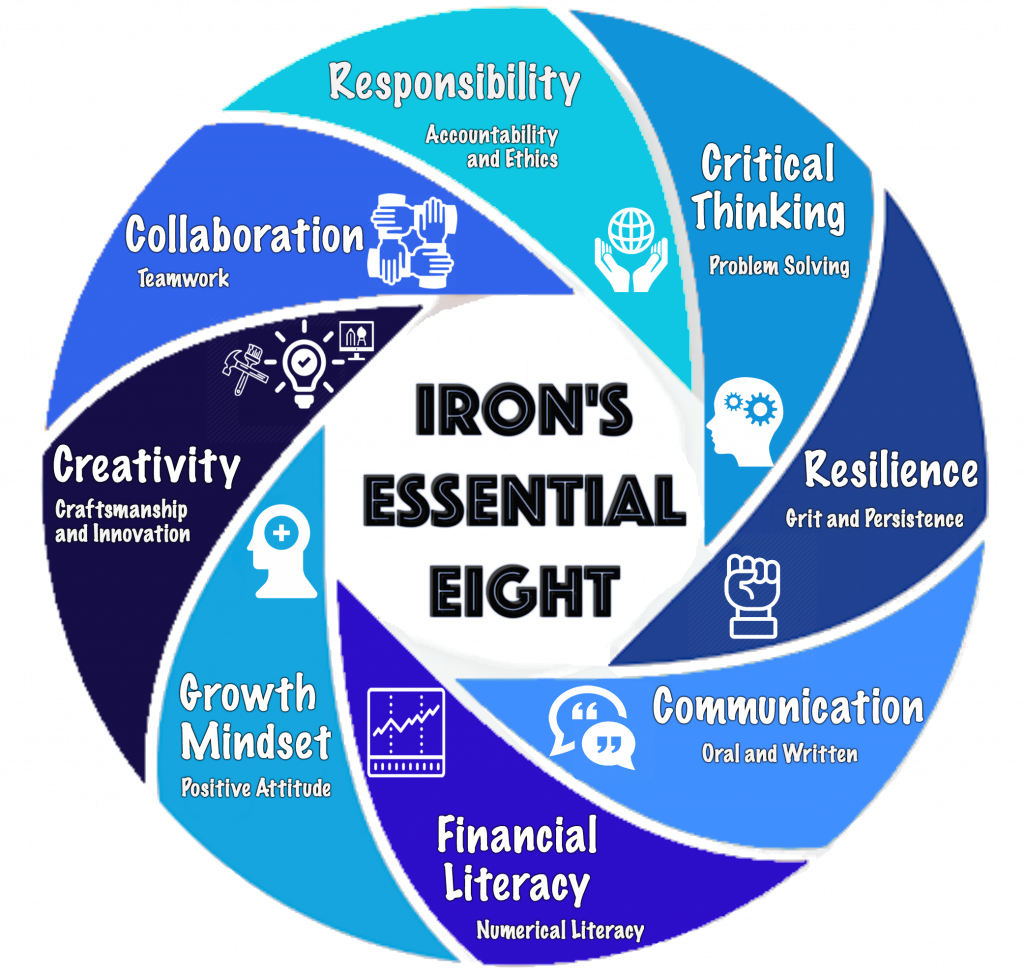 A survey of nearly 1000 members of our community including business leaders, post-secondary educators, parents, students and K-12 educators were asked, "What skills are essential for the future success of our graduates?" The top responses included critical thinking and problem solving, responsibility, communication, creativity, collaboration, resilience, growth mindset, and financial literacy. These 21st-century skills are more important to students now than ever before. They not only provide a framework for successful learning in the academics, but ensure students can thrive in a world where change is constant and learning never stops. These skills are increasingly important to employers and successful entrepreneurs.
Educators have developed clear success criteria for each of these skills and dispositions. Students will select an essential skill to demonstrate within each of their projects, and teachers will give them feedback on how they reached or came short of the success criteria. Meeting the success criteria for each of these essential eight skills and dispositions will be a requirement to earn credit in every class. The most successful demonstrations of these skills will be showcased in a portfolio section of a student's mastery transcript. Learn more about the mastery transcript.
Entrepreneurship Challenges and Speakers
Students will hear from our partners on entrepreneurship and industry connections frequently as these speakers visit our school, as we take students to hear from them and tour their offices, propose solutions to the challenges they face, as well as participating in entrepreneurship speaker series at SUU. Students will also be encouraged to compete at the local high school entrepreneurship competition at SUU, the Utah high school entrepreneur challenge at the Lassonde Studios of the University of Utah, and will strive to compete at various national competitions as shown here. Students will have the opportunity to win cash prizes and scholarships in the thousands of dollars in the competitions. Preparing and communicating their ideas at the competitions will be a wonderful and rewarding experience for students as they present their work to an authentic audience and gather feedback for further growth and development.
Intensive ACT Prep for All Students
Students scores on their ACT play an important role in their post-secondary possibilities. As such, each student will have dedicated time and credit given to intensive ACT prep work, with individualized tutoring, and online work with ACT Prep software provided for students.
Post Secondary Partnerships
Concurrent Enrollment / AP
Students will be able to take advantage of the flexible schedule at Launch High School to work at their own pace on a wide array of SUU concurrent enrollment and AP classes. Ambitious students will have the opportunity to earn their general education certificate or associates degrees before graduation as they complete these classes.
Southwest Tech Competency-Based Classes
Students can take advantage of many classes, including competency-based options that progress at a flexible pace for the student. These options range from health science to culinary arts, from automotive to computer science. These are provided with no cost per credit to our high school students with only an annual fee of only $20 and the cost of books. Find out more at https://stech.edu/highschool. Many of these courses offer dual enrollment with SUU credit and opportunities for industry-recognized certificates for a fee.
SUU Online
SUU offers a plethora of online courses that, given the flexible schedule at Launch High School, students could take on during their high school career. Most notably, online offerings make it possible for students to earn a certificate in Entrepreneurship and Small Business Management with only 5 online classes. Although online courses beyond concurrent enrollment opportunities will carry a tuition cost, that has been reduced for online-only programs. See the News here.
Positive Behavior Reinforcement
At Launch High School, students will be positively reinforced for demonstrating the desired behaviors of strong students. Students will receive figurative pay from teachers in an app which will allow them to use their earnings to pay required bills, representing they are adequately displaying these desired behaviors. The will use the remaining funds to buy small rewards, save to earn larger ones, or invest to multiply their income. This will not only reinforce positive behaviors but also teach financial literacy and responsibility.